MORE PIX OF GINGER!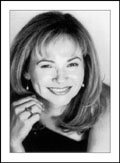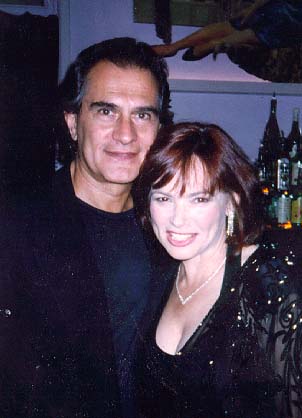 Ginger with Kenny Rankin backstage at her performance with Steve Allen and the Tom Cubis Big Band at the Moonlight Tango in Studio City. (Say that six times!) Kenny often invites Ginger to duet with him at his gigs, including a live show broadcast not long ago from the Wadsworth Theatre in West LA. Ginger met him when she worked for Flora Purim and Airto Moreira, and she enthuses, "What a luscious voice... and handsome, too! A completely classy gentleman."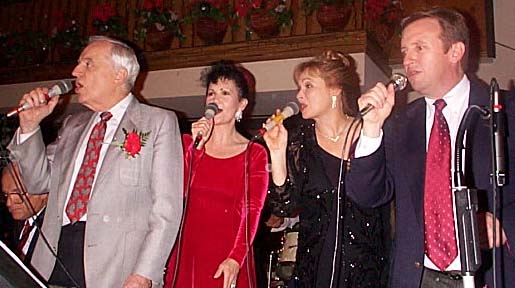 Tracy Well's Big Band 4-Star Quartet! From left: Tracy Wells, Laura Stone, Ginger, Rich Bullock. They sing standards like "Don't Sit Under the Apple Tree," "Perfidia," and "String of Pearls."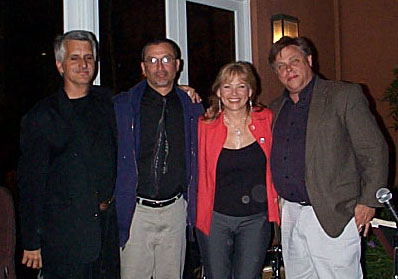 Riner Scivally (guitar), Jeff Donovan (drums), Ginger, Mike Carr (keyboards) at a major gig June 2000 up on Mulholland Drive, Hollywood, CA.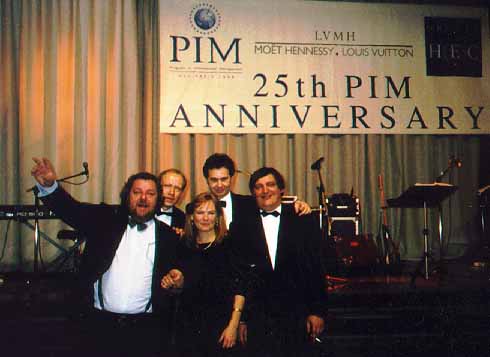 Ginger at the PIM (Programs in International Management) conference in Paris, Nov. 1998, hosted by HEC (Hautes Études Commercial). Ginger says, "They hired a French band and invited me to sing. That's Pierre, the piano player, waving on the left. We did everything we could think of in other languages, since it's an international group... Had a blast!" The only drawback, she says, "is that I missed a couple of marvelous courses of one of the best meals I've ever been served in my life!"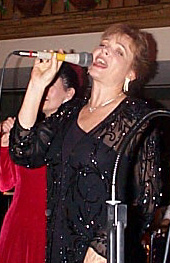 Oh, she's so cute! And her voice comes straight from Heaven. Ginger solos with the Tracy Wells Band.
New Year's 2000, Ginger sings "Why, Why 2K?" to the tune of "YMCA." (Hey, somebody had to.)
ORDER GINGER'S NEW CD!
Copyright © 2000 by Ginger Berglund