"Haven't We Met?" BAND MEMBERS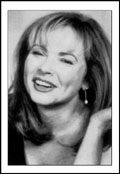 Ginger is very proud of her band members! They've got some pretty impressive resumés and monster chops, but they won't bite...
SHELLY BERG, piano - Director of the Jazz Studies Department at USC, Shelly has just released a new CD, The Will: A Tribute to Oscar Peterson. Ginger's album wouldn't be the same without him. http://www.usc.edu/schools/music/faculty/jazz-studies/berg.htm
BRUCE ESKOVITZ, tenor sax - A get-down, conversational-style player, Bruce gets raves from Ginger: "I always knew I'd have fun on the gig if Bruce was playing, so I figured he would be a great motivator. He was really the catalyst for this CD." Bruce has produced a number of CDs, including several of his own. He teaches at the University of Southern California. http://www.usc.edu/schools/music/faculty/jazz-studies/eskovitz.htm
JOHN LEITHAM, bass - John played for Mel Torme, and obviously Mel's taste in bass players is impeccable! John's discography is pretty intimidating, by the way. http://www.greenheart.com/southpaw
ROY MCCURDY, drums - He is amazing! Someone said that "prophets are the timekeepers" and Roy is definitely a true prophet! He made quite a name for himself as Nancy Wilson's drummer and has played for others too numerous to mention.
RINER SCIVALLY, guitar - Composer of "Swifts" (one of the tunes on "Haven't We Met?"), Riner is a smooth and innovative improvisor. He teaches at Occidental College and Pasadena City College in Southern California and has scads of playing credits. Riner and Rob Kyle work together a lot: to catch up with them, jump to Rob's site: http://www.robertkyle.com/

Copyright © 2000 by Ginger Berglund